Game exclusion experiment
We build fences to exclude large game animals from some parts of the area in order to enhance the regeneration of the oak woods.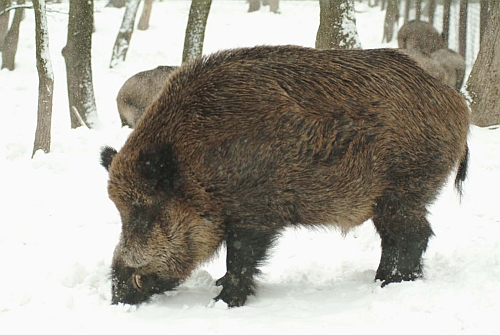 The excessive game population can significantly obstruct natural forest regeneration processes. Fallow Deer and Roe Deer pick the offshoot of young trees, Wild Boars dig out most of the acorns buried in the ground; thus the offspring is not able to grow and provide a supply for the natural forest regeneration processes. Before the time of drastic human intervention the size of the game population was regulated by large carnivores (wolf, lynx, bear in some places). With the extinction of the large carnivores the game population can only be controlled in a given area by exclusion or hunting of the large game animals.
According to some opinions instead of (or besides) the excessive game population the decrease of the ground water level causes the disappearance of natural forest regeneration processes. In order to assess the affects of the two factors and to decide the question a field experiment is needed – for this purpose an almost 12 km long game exclusion fence will be built. 170 acres of the wood will be surrounded with the fence, from where we exclude the game by capturing and driving out the large game animals. At present we plan the fence for the next 20-25 years.
We will assess our future activities based on the results of the exclusion fence experiment. In case oak regeneration processes are good within the fence, a suggestion should be made towards the decrease of the game population. In case the oak regeneration processes are not successful within the fence either, we have to take into consideration the natural restructuration of the habitat, as a result of which the territory of sand steppes will increase. In this case the oak woods can be settled or let be formed by natural conditions in different areas with more water supply.