Pálfája Educational Centre
From year 2012 on the Pálfája Educational Centre is run and maintained by the Municipality of Nagykőrös. The well-established and popular nature trail programmes, family events, outdoor lessons and summer camps are going on.
For more information contact:
Polyák Péter
Kőva Zrt.
Telefon: 06-30-663-4657
E-mail: polyakpeter@kovart.hu
The Pálfája Educational Centre welcomes you from summer 2008
The refurbishment of the former boarding camp building in the forest of Pálfája has been finished, and the all-new Pálfája Educational Centre has been born. The place has been renewed in and out and we welcome you with a milieu suited for learning, playing and resting, with increasing number of programs.
Our programs from the school year 2008/2009
guided tours on the nature trail
outdoor biology lessons
30-lesson training for teachers
nature knowledge camp in summer
handcraft trainings
programs on special days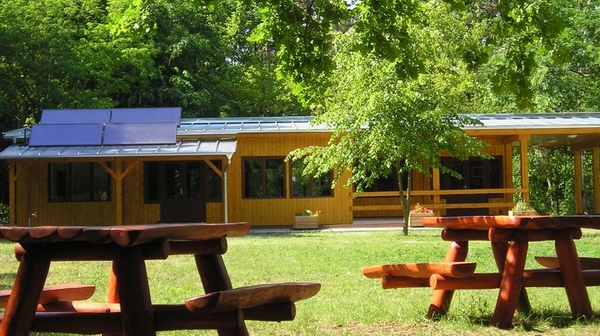 There is enough room in the yard to fit tents near the playground, and the roofed terrace of the building provides opportunity for keeping not only environmental but also handcraft trainings. The lecture room gives place for seminars and projections. The heat-kitchen guarantees we can eat our hot lunch on the spot when we camp out for several days.

You can see more pictures about the educational center in the Photo Gallery>>
We welcome your ideas about operation of the Educational Centre by filling the questionnaire to be downloaded here >>
You can find the appraisal of the rendered questionnaires here>>
Mária Sápi Vinczéné
Environmental education programme coordinator