Categories: Environmental education
      Date: Aug  4, 2009
     Title: Children's Camp in the "wild"

'Successful week in the wild with exciting activities' should be the headline of this year's unforgettable camp. Sleeping under stars, water-bomb fighting, night walks and handicraft programmes made the summer camp in the Pálfája woods exceptionally enjoyable this year.
The story of the week from one of our young voluntary supervisor, Ildikó:
After the early morning arrival on Monday we got to know each other with a funny animal names game. Right after we found out who we would spend the week together, the boys vanished into the nearby bushes of the camp to start building hides and traps. As sharp tools are not for children, they needed help in their constructions, so by the end of day both the kids and adults got exhausted. We naively hoped there would be only one bunker when we noticed the kids running up and down in the tunnels of blackthorn bushes. As they found their own secret fun, did not miss the TV or PC at all.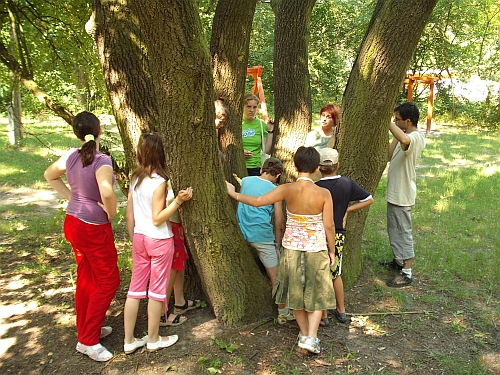 As we were an environmental education camp, education and teaching were also part of the programme. We learnt how to recognize plants, find the birds with binoculars, talk to the trees and even catch some bugs. The lucky ones could even spot rabbits and deers.
We had to face difficult challenges too, such as sleeping under the blinking stars and a night trip, where the use of torch was not allowed. We also managed a never-ending walk where all the children were so persevering that they merited the approval for a long-waited waterbomb-fight. Everyone ended up soaking wet.
On Thursday we hosted a handicraft day, where we made bracelets from leather, dishes from clay, and the most popular and louder activity of all was the making of a Hungarian pipe-flute from hemlock branches.
In the evenings we played football, table games, "Wake-up Jancsi", cone-fight, followed by placing a fire, making bbq, and one special night we even talked to ghosts.
Everyone did their bests with bravery and stamina, therefore the kids received golden great capricorn beetle awards, while the young supervisors got diamond great capricorn beetle awards. Nanny Marcsi received, exceptionally, ruby award.
All in all, the camp was a success, with loads of fun, and in the end, it turned out that everyone won some kind of competition throughout the one week.
I hope that everyone is coming next year too and we will become experienced nature walkers and lovers together, in one team.