Categories: Environmental education
      Date: May 20, 2008
     Title: We've been on a professional practice trip

An enthusiastic little team – project members, teachers and environmental education professionals - got off on April 21-22 to visit two nearby environmental education center, which can stand as a role model to the Pálfája Educational Center.
We left on a sunny Monday to the Castle of Vackor Forest School in Nyíri Forest, Kecskemét Hetényháza, where we had an insight into the Kiskunsági Erdészeti és Faipari Zrt. Forest School daily routine. The morning dechatlon gave us many ideas how to engross playfully the children's huge energy. We had a professional talk with Rudolf Vajda School Ddirector and Zsuzsa Makra Financial Director in the afternoon, while we took a walk on the study trail and visited the museum of the 1848 Revolution. Archery and horse riding closed the day. This day gave us many methodology ideas and was a good start for our joint thinking.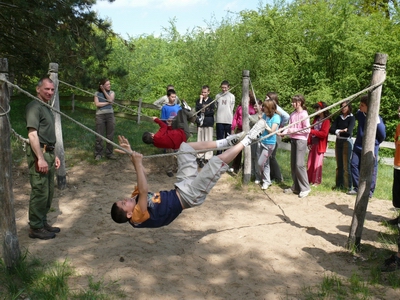 On the Earth Day we visited the one-year-opened Kontyvirag Forest School in Lakitelek-Tőserdő where Réka Bártol and Mária Lendvai, environmental education experts from the Kiskunság National Park Directorate gave us a hand. We acquainted the school's professional programs, infrastructure capability and future development plans. The own experienced "blind walk" in the forest meadow moved not only our thoughts but our senses too. In the afternoon we were enchanted by Mária Lendvai's lecture spiced with plenty of practical ideas and visual aids. Her many-year education experience gave us the elementary basics in general approach.