Categories: Outdoor
      Date: Oct 29, 2007
     Title: Greens in the woods - Field programme for nature conservation NGOs

On 13 October 2007 we invited the representatives of nature conservation and environmental conservation NGOs to an excursion with professional guidance in the Natura 2000 area of Nagykőrös Steppe Oak Woods, where we presented the sand oak woods of the Great Plain and the conservation actions of the LIFE-Nature project.
On the first stop of the excursion, in a good condition glade with grey poplar in Csókás wood István Justin showed us on the map of the project site which way we would follow.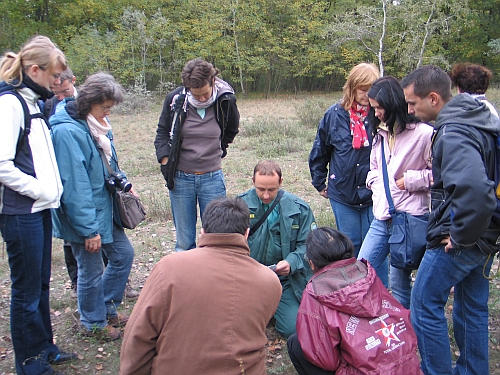 Some of the participants had never been to a natural lowland forest; they found the excursion with professional guidance especially interesting. In spite of the long walk, the group of journalists and representatives of NGOs were listening the whole day with interest the narrative of our colleagues about the conservation work on the project site.