Categories: LIFE project
      Date: Jan 10, 2011
     Title: Last year of the LIFE project

We have closed a successful year in 2010 in the oak woods of Nagykőrös. In 2011 we keep working for the conservation of the steppe woods and sandy grassland.
Last year forestry works continued in the project site. We used a totally new forestry technology (still unspread in Hungary) under the guidance of Dénes Dobrosi, forestry engineer for the plantations on 30 hectares. With this new technology 60 cm deep and 75 cm wide stripes are made by a ploughing machine that prepares the seedbeds. This method combines the advantages of several planting technologies. In the soil prepared in this way the water balance shows improvement, the elimination of weeds and the nursing is more efficient. At the same time – unlike in the complete soil preparation when the undergrowth is destroyed totally – there will be untouched areas of 180 cm wide between the seedbeds where the undergrowth will remain intact and the species will survive the dangerous period while the saplings grow and become a forest again.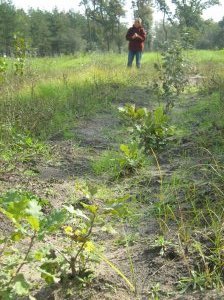 Last year we completed the most difficult job again, the elimination of the invasive species within the oak forests with a combination of the mechanical and chemical treatment. We applied injection to the living black locust trunks on the Strázsa-hill, which proved to be a very effective method.
With the cooperation of the Hunting Association and many volunteers we took huge efforts to shepherd the game out from the fenced woods compartments. In the course of the spring works we planted a mixed forest, similar to the natural one.
The Pálfája Educational Centre had a most successful year in 2010. It became an integrated part of the life of Nagykőrös and the region. Many NGOs and local people have become active supporters of the nature conservation efforts.

2011 will be busy with field work and preparation of publications and events, as this is the closing year of the LIFE. We look forward to complete it successfully.