Categories: Environmental education
      Date: Sep 16, 2010
     Title: A late summer summary

After a capricious spring the summer was kind and gracious to our outdoor programs. Our nature camps were held in good order. (namely Makk Marci tent camp, Erdei Kuckó nature camp)
Capricorn beetles were crawling in Pálfája
In this season Makk Marci tent camp was organised with the participation of 23 children, 4 activists from WWF (Krisztina Kovács, Lilla Otrokocsi, Viktória Sajtos, István Tóth) and 2 college helpers (Zsuzsanna Farkas, Enikő Pozsár).
This year we had our own tents and mattresses that made our stay more comfortable and our experiences closer to nature. Weather was just fine. The "traditional" first night's shower was not followed by any other rainy day.
We had the following new programs besides the most popular ones of last year:
We trained capricorn beetles, got acquainted with the inhabitants of the forest, visited the project fields with carts and horses. Football, bouncer game and refreshing battles in the water were the most popular sports. In the evenings we had "ghosty" discussions by the camp fire, the smaller ones listened to tales.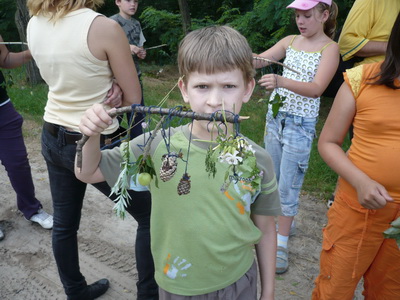 Some prepared mud pictures as souvenirs, and also kotkoda, a folk instrument to disturb quiet homes. We graved our own skewers for a bacon frying together with the parents.
Early in the morning we went to observe birds, while the brave ones went hiking to the forest during night.
In this rainy year not only the saplings were growing in the forests but also the ragweeds along the nature paths. Thanks to the hard work of our team we managed to collect almost as many as 25.000 pcs of ragweeds from the surroundings of the camp. The green waste thus collected was transported to the composting plant by the workers of KŐVA.
In the meantime we learnt how to live life in a camp since for many of us it was the first time to live in tents alone, without parents. We together won over homesick. Even the smallest children were brave enough to fulfil the trials in the forests.
Our various activities and programs we did together made us a real team.
So, to quote the words of the campers: There is just one problem with this camp. It comes to an end!
Friday afternoon we left for home feeling tired but full of with experiences.