After the public procurement procedure the winner of the tender – on pursuance of the contract – has begun to reconstruct the old day-boarding camp in Pálfája wood this January. With the refurbishment of the old building, the new education center will be the first institution of Nagykőrös specialized in enviromental education.
The Municipality of Nagykőrös added to the cost of the reconstruction of the education center 9.59 million Forints – besides the own contribution to the project, – whereof the general meeting decided on 22nd November.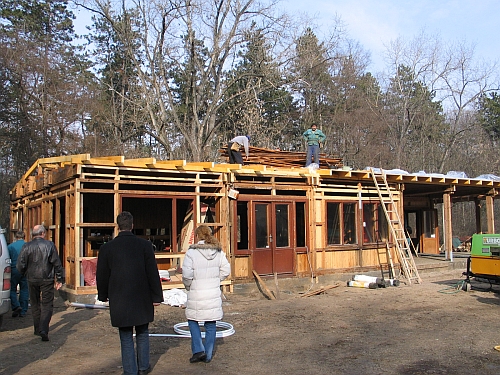 Thanks to this during the reconstruction numerous environmentally sound and energy-saving solution has been constructed, such as solar collectors in the water heating system, and playgrounds and resting places in the garden of the education center and outside. According to our plan the reconstruction will end in the spring and the grand opening will be held on 5th June, 2008, the World Day of Environment.

Layout of the renconstructed building >>
The rough plan of the garden and its surroundings >>

It is important for us that the residents meet their environmental heritage, and be proud of it, because the steppe oak woods, which is incomparable in whole Europe, deserves to be sight in Nagykőrös.

On the other hand, this special natural value means responsibility, not just for the owner, but for all local people. That is the reason why we established the Páfája Educational Center as an elemnt of the LIFE project, where we organise environmental educating progprammes first of all, but not exclusively, for children: outdoor lessons, study trail programmes, environmental summer camps.

In the enviromental educational programmes in Pálfája Education Center the children can meet the beauties of nature, in addition we would like to teach the new generation in a playful way how important is to protect our natural treasures. We also demonstrate for the curious ones what kind of measures nature conservationists use in their everyday work.