On the 14th of March was celebrated the technical hand-over of the refurbished Pálfája Educational Centre. In the name of the town the Mayor of Nagykőrös received the keys of the building. The reconstruction works – including the installation of some environmental-friendly solutions – were all finished by the set deadline. Therefore, only the rearrangement of the garden and the construction of the study trail in Pálfája wood are left to be done before the official opening ceremony on the 5th of June.
It took only two month to complete the renovation of the old, out-of-use boarding camp. We also installed a sun-collector system – the first thing to be noticed when you arrive, – which will provide hot water for the campers.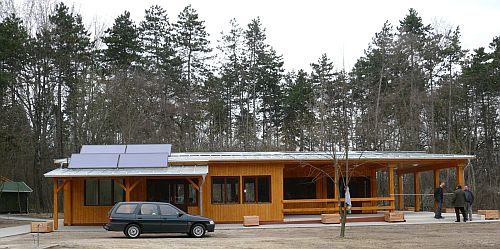 Thanks to the three-folded cooperation and the granted support from the LIFE Fund a totally renovated outdoor educational centre will await the interested children from June 2008. Guided study trail tours, craft workshops, outdoor biology classes, summer camps and many other interesting programmes will be organized for both the younger and older visitors.
The opening ceremony of the Educational Centre and study trail will be held on the 5th of June. Till then we still have a lot to do: we'll have to furnish the new building, revamp the garden and create the camping site; then we'll have to establish the new playground in Pálfája wood and build the study trail, where the steppe oak wood and our conservation actions will be presented to the public.
If you like to draw you can participate in the decoration of the new educational centre. Apply to our drawing competition!