Photo contest
Shoot the woods, trees, flowers, birds, mammals, bugs! Submit the photos and win valuable prizes in the nature photo contest of Duna-Ipoly National Park, WWF Hungary and Nagykőrös Municipality!
Within the LIFE project which aims at the preservation of the unique natural value represented by the steppe oak woods near to Nagykőrös we invite the below photo contest.
Shoot photos in either the forest near to Nagykőrös or anywhere in one of the natural woods still survided on the Great Hungarian Plain and send them in printed and digital (CD) format to the address of WWF Hungary until 30th June, 2010.
Address: 1141 Budapest, Álmos vezér útja 69/A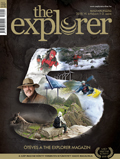 The main prize is a portable photo stand. Besides, the best photos will be published in the next issue of Explorer Magazine and their authors will be granted with free subscriptions of one year.
Terms and conditions of the contest:
You can participate in the contest with photos that show the living world, the natural values and the curiosities of the natural forests, the steppe woods still survived in the Great Hungarian Plain.
The contest is open for everybody. There is no age limit. Both amateur and professional photographers can take part.
An author may submit max. 5 photos.
Date of submission: 30 June, 2010. (either the date of the postal stamp or the date of personal submission)
Address: WWF Hungary, 1141 Budapest, Álmos vezér útja 69/A
Format: Photos should be of size of at least 5 megapixels, in JPG format on a CD. The printed photos can be of any size, it is upon the discretion of the authors.

Please attach the below information printed and signed (or save as a Word document on the CD):
The name of the author
Contact information (phone, e-mail, postal address)
Please indicate whether amateur or professional took the photos
Title of photos (if any)
Place and time of their shooting
Please indicate whether the author agrees that the photos can be used for future environmental, educational purposes by WWF Hungary and DINPI – indicating the name of the author.