On the 8th of October environmental experts invited by DINPI and WWF were gathering from all over the country at the railway station of Nagykőrös to get acquainted to the LIFE project aiming the conservation of the steppeoak woods and sandy grasslands in Nagykőrös.
All of this happening in October is not a coincidence. The most beautiful protected plant of the area, colchium arenarium is flowering at this time of the year. From the railway station we drove the jeeps to the scene to walk all over the project area with the staff of the Hungarian National Park Directorates, the Ministry responsible for developing countryside and some environmentalist NGOs.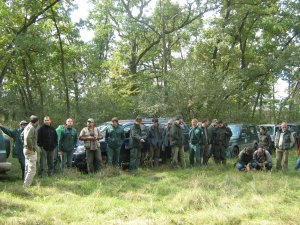 At the first stop György Verő, the project coordinator of DINPI, was giving a report about treatments aiming habitat rehabilitation as well as means and solutions of fighting against such invasive species like black locust, common milkweed and black cherry. Freeing 400 hectares from these invasive species during 5 years as it was undertaken in the LIFE project is really a weary task, since against these rapidly spreading agressive conquerors only the combined mechanical and chemical treatment can be successful. However the latter one can be applied only at certain times of the year keeping the very strict rules. Participants were listening with great interest, since they have to deal with similar problems in their areas. Exchanging methods, means and experiences was useful for everyone and we trust that technologies tested in Nagykőrös will be useful for experts in every corner of the country. Around the second stop young poplars, oaks and other native saplings were growing. This place is a good example for forcing back invasive plants and the advantages of fences keeping out game. On this area we have replanted a clearing with native trees. Following the instructions of forestry engineer Dénes Dobrosi we have mostly planted rapidly growing poplars which later can provide shades for oak saplings and acorns planting in the next few years to make the necessary replacement. In forestation DINPI's experts applied a machine never used in Hungary before to prepare the soil for the saplings in a way which is effective, still delicate and spares the life of the ground level.
Finally we visited the Pálfája education centre, where enviromental educator Mária Sápi was delivering a lecture about the importance of enviromental education and drawing the local residents into their work. Moreover we were lucky enough to be the first people to see the new oven finished this week. During camps and programmes freshly baked bread and roast will be made in it.
Participiants enjoyed the excursion very much and they said that is really important for the local residents to be interested in the natural treasures located around their town. Hopefully they will return at spring to continue exchanging of views since we have all got useful informations and learnt a lot from each other's experiences.